Auto Face Body Tracking PC Web Cam and Mobile Phone Tripod with Noise Reduction Mic
Always need to adjust your phone stand when recording to keep yourself centered in frame? Our mobile phone stand with built-in camera and noise-reducing microphone offers a combination of motion tracking and facial tracking to ensure that you are always in frame with unbroken focus.
Connect & use right away. You can leave it, so there's no need to check every time! Even if you move around, the camera will quickly focus on you. A must for those online class, conferencing, recording, video calling, gaming and live streaming to satisfy your various requirements.
Specifications:
• Video: 1920 x 1080 resolution
• Picture: 2MP
• Lens Angle: 130°
• Detection Distance: 1-5m
• Rotation Angle: 360°
• Tripod: Yes
• Drive: Free Drive
• Microphone: Built-in noise-reducing microphone
• Battery: Built-in 600mAh battery
• Interface : USB-C (1.5M USB-C cable)
What you get:
• Webcam x 1 pc
• Tripod x 1 pc
• USB-C Cable (1.5 meters) x 1 pc
• User Manual x 1 pc
System Support:
• Windows 2000/XP/7/8/10 or above
• Mac OS
• Chrome OS
• Linux
PURCHASE YOURS NOW!
$85.99 inc. GST
Buy Now
[ Intelligent Face & Body Tracking ] – This AI tracking webcam with a microphone can automatically recognize and track your face or body and rotate 360° steadily with your movement even from a distance of 5 meters.
[ Noise Reducing Microphone ] – This 360 mobile phone tripod is built with a noise-reducing microphone so you can immerse in conversation and communicate clearly without having to worry about background noises.
[ 2 in 1 Auto Tracking Holder ] – This face and body tracking smart camera can be used as mobile phone mounts & stands that allow the built-in 360 camera rotation that keeps you centered in the frame while you move and record hands-free.
[ No App Needed ] – This web camera phone mount requires no need for app installation. Just connect and use according to its user manual. Hassle-free so you can enjoy more time streaming. A must as camera & photo accessories!
[ Versatile Compatibility ] – Compatible with Windows 2000/XP/7/8/10 or above, Mac OS, Chrome OS and Linux. This streaming webcam provides wonderful video on Skype, Facetime, OBS, Facebook Live, Youtube, Zoom, and most other video software and as a tripod for iPhone.
Learn more about this AI WebCam in this video.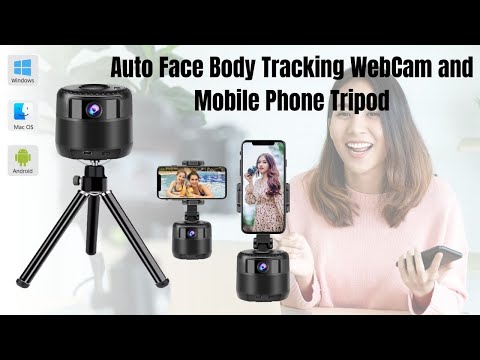 Auto Face Body Tracking PC Web Cam and Mobile Phone Tripod with Noise Reduction Mic
Video will open in a new window
Using the eBay App? Paste link into a browser window:
[isdntekvideo]
.ytvideo * { box-sizing:border-box; } .ytvideo { margin:.5em auto 40px auto; max-width:480px; font-family:arial; text-align:center; position:relative; min-height:120px; background-color:#555; } .ytvideo p { position:absolute; margin:0; color:white; background-color:rgba(0,0,0,.5); } .ytvideo .yt_hd { font-size:16px; width:100%; height:28px; padding-top:6px; text-align:left; top:0; left:0; padding-left:10px; overflow:hidden; } .ytvideo .yt_ft { font-size:12px; width:100%; bottom:0; left:0; } .ytvideo img { display:block; max-width:100%; border:0; } .ytvideo a:after { content:"A025BA"; position:absolute; width:60px; height:40px; left:0; top:0; right:0; bottom:0; margin:auto; border:0; border-radius:10px; color:white; background:rgba(0,0,0,.6); font-size:24px; padding-top:11px; cursor:pointer; } .ytvideo a:hover:after { background:#CC181E; } .ytvideo .yt_inp { position:absolute; top:100%; left:0; width:100%; text-align:center; padding:.5em .2em; border:0; color:white; background: rgba(0,0,0,.7); } @media(max-device-width:960px){ .ytvideo { margin-bottom:60px; } .ytvideo .yt_inp { padding:1em .2em; } }