SAFER DRIVE
Answer urgent calls hands-free. You can now enjoy HD calls for up to 3hrs with the Bluetooth earphone. Provides in-call stereo sound with fast and stable transmission without tangling. Available to pick up & hang up calls, play/pause music.
CHARGER & WIRELESS EARPHONE

2-in-1 – Perfect combination of TWS Earbud and Car Charger Adapter. Never worry about being troubled between complicated earphone calls and car chargers; 2-in-1 Car Charger with Bluetooth Earphone can meet your multiple needs.

EASY CONTROL

When someone calls, pick up the wireless earphone, and the call will pick up automatically. Calls will automatically hang up once you plug the earbud back in the car charger adaptor. It also has a strong magnetic base, easy to put in without losing.

COMPACT SIZE

With a tiny thumb-sized (Size: 3*1.7*1.2inch) body, this mini car charger adapter perfectly blends with most car cigarette lighter and sits comfortably with the edge of the outlet.
Learn more about the Joyroom CP2 Car Charger with Bluetooth Earphone in this video.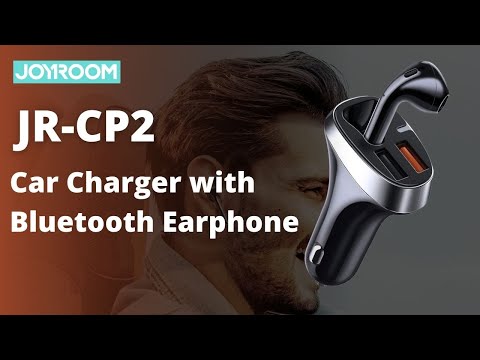 Joyroom JR-CP2 Car Charger with Bluetooth Earphone
Video will open in a new window
Using the eBay App? Paste link into a browser window:
[isdntekvideo]
.ytvideo * { box-sizing:border-box; } .ytvideo { margin:.5em auto 40px auto; max-width:480px; font-family:arial; text-align:center; position:relative; min-height:120px; background-color:#555; } .ytvideo p { position:absolute; margin:0; color:white; background-color:rgba(0,0,0,.5); } .ytvideo .yt_hd { font-size:16px; width:100%; height:28px; padding-top:6px; text-align:left; top:0; left:0; padding-left:10px; overflow:hidden; } .ytvideo .yt_ft { font-size:12px; width:100%; bottom:0; left:0; } .ytvideo img { display:block; max-width:100%; border:0; } .ytvideo a:after { content:"A025BA"; position:absolute; width:60px; height:40px; left:0; top:0; right:0; bottom:0; margin:auto; border:0; border-radius:10px; color:white; background:rgba(0,0,0,.6); font-size:24px; padding-top:11px; cursor:pointer; } .ytvideo a:hover:after { background:#CC181E; } .ytvideo .yt_inp { position:absolute; top:100%; left:0; width:100%; text-align:center; padding:.5em .2em; border:0; color:white; background: rgba(0,0,0,.7); } @media(max-device-width:960px){ .ytvideo { margin-bottom:60px; } .ytvideo .yt_inp { padding:1em .2em; } }