LONG HOUR PLAYTIME
For a single charge, use the Bluetooth earbuds for 4 hours. The compact charging case provides two charges. Built-in microphones with noise cancellation give you crystal-clear hands-free calls and voice assistants even in noisy surroundings.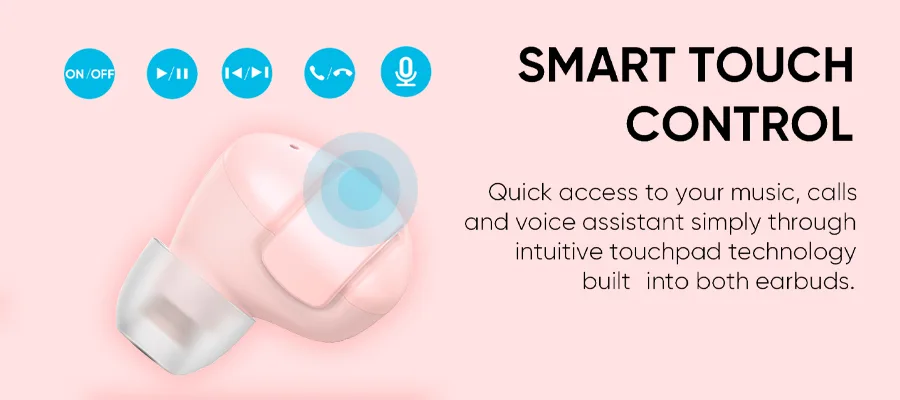 EASY CONTROL
These wireless earbuds have a sensitive touch control button; you can play/pause, previous/next track, and answer/hang-up phone calls. It also supports active Voice Assistant function; you can easily communicate with your voice assistant as you would normally.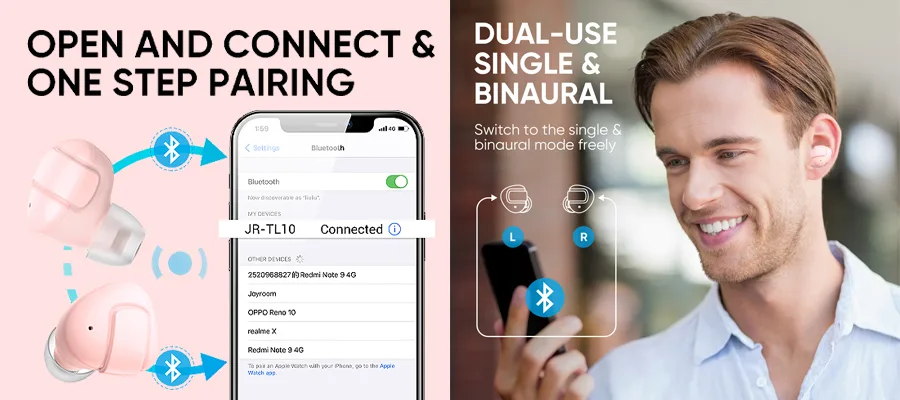 ONE-STEP PAIRING
Open the charging case to connect the earbuds. The Bluetooth V5.1 technology allows you to achieve true unlimited freedom. You can use the left and right earbuds independently. If you want to use it in monaural mode, just put the other earbuds into the charging case.  
IMMERSIVE SOUND
True wireless earphones have advanced audio processing technology. It delivers incredibly high-quality sound and deep bass with rich details. Mics with each earbud can ensure crystal-clear calls.  
COMFORTABLE FIT
The compact and portable design delivers visible texture. In-ear-shaped earbuds support long-time wearing without any discomfort. Enjoy listening to music while doing your daily activities.   Watch this video to learn more about the Joyroom TL10 Wireless Earbuds.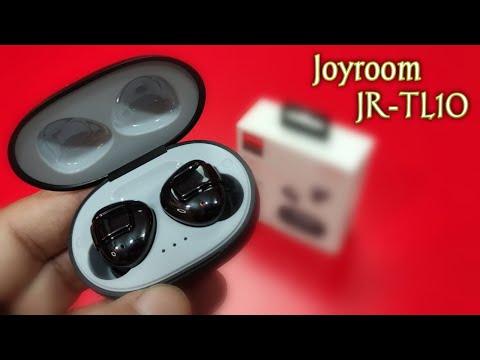 Joyroom JR-TL10 Unboxing u0026 Review in Hindi Urdu ! Joyroom TL-10 TWS Earbuds First Look in Pakistan.
Video will open in a new window Using the eBay App? Paste link into a browser window:
[isdntekvideo]
.ytvideo * { box-sizing:border-box; } .ytvideo { margin:.5em auto 40px auto; max-width:480px; font-family:arial; text-align:center; position:relative; min-height:120px; background-color:#555; } .ytvideo p { position:absolute; margin:0; color:white; background-color:rgba(0,0,0,.5); } .ytvideo .yt_hd { font-size:16px; width:100%; height:28px; padding-top:6px; text-align:left; top:0; left:0; padding-left:10px; overflow:hidden; } .ytvideo .yt_ft { font-size:12px; width:100%; bottom:0; left:0; } .ytvideo img { display:block; max-width:100%; border:0; } .ytvideo a:after { content:"A025BA"; position:absolute; width:60px; height:40px; left:0; top:0; right:0; bottom:0; margin:auto; border:0; border-radius:10px; color:white; background:rgba(0,0,0,.6); font-size:24px; padding-top:11px; cursor:pointer; } .ytvideo a:hover:after { background:#CC181E; } .ytvideo .yt_inp { position:absolute; top:100%; left:0; width:100%; text-align:center; padding:.5em .2em; border:0; color:white; background: rgba(0,0,0,.7); } @media(max-device-width:960px){ .ytvideo { margin-bottom:60px; } .ytvideo .yt_inp { padding:1em .2em; } }