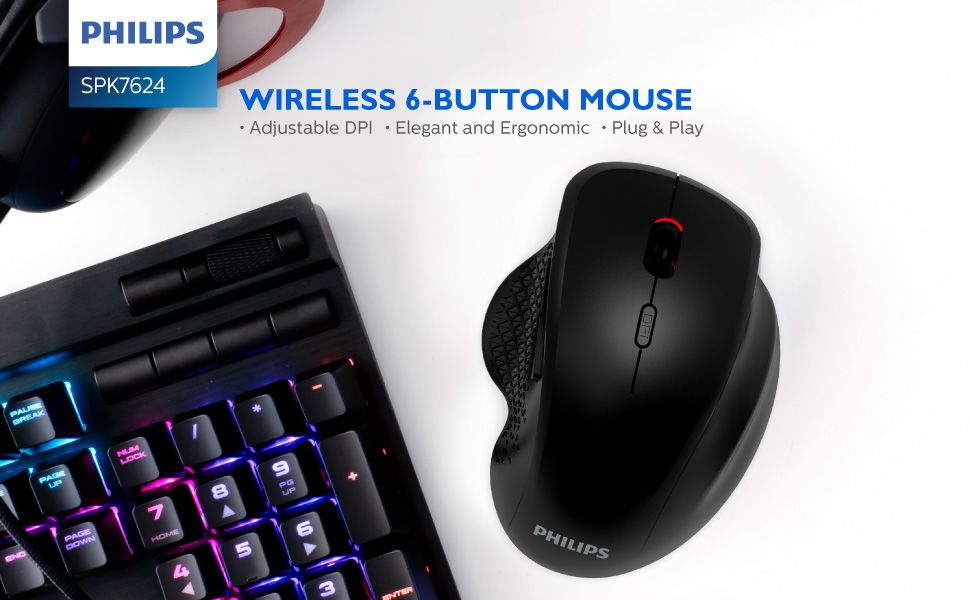 PHILIPS 6-Button Wireless Mouse with Adjustable DPI (Model: SPK7624)
Once again, Philips brings you innovations in thoughtful design and superior functionality with its slim, low-profile 2.4g wireless mouse. Quiet, responsive and reliable, this rechargeable cordless mouse is perfect for office or home use, for students living that dorm life, or travelers on the go who need reliable, hassle-free portability.
Sleek and comfortable, this optical mouse fits comfortably in your hand for a natural grip that feels more like greeting a friend with a handshake than holding a mouse. It's fitted with a gripped shelf for the pinky and ring fingers, as well as a comfortable thumb rest. Combined, this purposeful design helps reduce hand stress and wrist fatigue during long use sessions. Work all day. Browse all night. Your wrist won't mind.
Its compact design makes it easy to bring the mouse with you wherever you need it. The nano transceiver uses Philips' proprietary technology to optimize performance beyond that of other standard computer mice on the market, delivering a reliable wireless connection up to 10 meters (approx. 30 feet). Simply plug and play, no additional software required. The SPK7624 has wide compatibility, including Windows XP/Vista/7/8/10 and Mac OS 9.3* and later.
Don't settle for style without substance, or functionality without form. With the true-comfort ergonomic wireless mouse from Philips, you can have it all.
*Mac OS devices must have the necessary USB ports compatible with the USB nano receiver.
SPECIFICATIONS
Connectivity: 2.4Ghz
Transmission distance: 10 meters (approx. 30 feet)
Resolution: 800-1200-1600 DPI
Buttons: 6
Button lifespan: 8 million clicks
Power supply: 1x AA battery (included)
Weight: 75g (0.165 lb.)
Dimensions: 112 x 81 x 47 (± 0.5mm)
Operating platform: Windows XP / Vista / 7 / 8 / 10, MacOS 9.3 or higher*
Comfortable Thumb Rest

Ergonomics is the name of the game with this true-comfort wireless mouse from Philips. From the slanted "handshake" angle to the ribbed thumb rest.

Travel-Ready Convenience

For added convenience, the nano receiver can be housed in the battery compartment so it's always with you when you're traveling.

Quick DPI Adjustment

The easily accessible dedicated DPI button lets you adapt the mouse for speed or accuracy, letting you change the DPI from 800, 1200 and 1600.