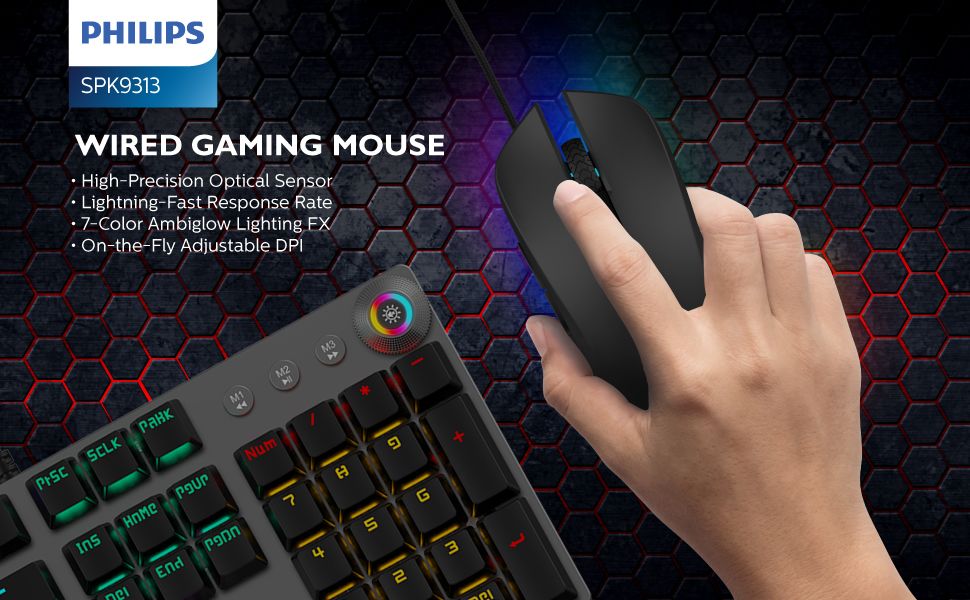 PHILIPS High-Performance Wired Gaming Mouse — Designed for the Win
Philips — the name you know and trust. Now with a gaming mouse you're going to love. Fast, accurate and exhilarating. With a focus on intelligent design and quality build, the SPK9313 delivers everything you need to point, click and slide your way to the top of the leaderboards.
The smooth glide performance of the SPK9313 makes it ideal for a variety of games, from FPS/RTS games to eSports. And the sleek, high-end design looks as good as it performs — spectacularly. But it's not just good for gaming. The unobtrusive design flows well in virtually any setting, from the dorm room to the office. And with the expert manufacturing processes employed by Philips, you can expect full functionality even after 5 million clicks.
Breathe Life into the Game
Get in the mood and add color to your gaming rig with the 7-color "Ambiglow" breathing backlight. Soothing blues for concentration. Fiery reds for added hype. Or let the colors reveal the DPI settings at a glance.

Play Better, Game Longer
When gaming session get too intense, you'll be Philip's thoughtful design and build quality to help you through it. After all, the SPK9313 is naturally contoured with a truly ergonomic shape that fits comfortably in the hand. It offers a relaxed grip that ultimately helps ease wrist fatigue and minimize stress on the hand. Combined with the sweat- and moisture-resistant outer shell, you'll enjoy comfort without compromise during long, concentrated gameplay.
With wide compatibility for Windows XP/Vista/7/8/10 and Mac OS* X 10.6.x or later, the SPK9313 from Philips isn't just your next gaming mouse. It's the last mouse you'll ever need.
Specifications
Type: RGB Wired Gaming Mouse I Product Dimension: 126.5 x 65 x 40.7mm (±0.15mm) I Number of Buttons: 6 I Key force: 70±5g I Lifespan: 5 million clicks I Available DPI: 800/1200/1600/2400 DPI I Polling rate: 500Hz (2ms) I Refresh rate: 6,000 FPS I System requirements: Windows XP/Vista/7/8/10 and Mac OS* X 10.6.x or later
*(Note: Driver software not available for Mac OS; however, buttons will be automatically mapped as a traditional computer mouse.)
Speed or Precision — You Decide

Smooth acceleration. Precise movements. Exact control. Or somewhere in-between. On-the-fly DPI switching gives you the ability the adjust cursor speeds to your needs.

Ready — Aim — Win!

Play longer with less stress and edge out the competition, thanks to game-winning performance and an ergonomic design that helps reduce hand fatigue.

Optimize to Your Play Style

Dial in to your exact gaming needs. Easily remap and customize the 6 fully programmable buttons based on how you play. Optimal for FPS, RTS and eSports gaming.