Maro RGB Desktop Sound bar and Gaming Speaker with Bluetooth and AUX Mode, HiFi Sound, Touch-Control Backlit
At Maro, we know that gaming is an experience that you can only enjoy with the right technology. After having invested in expensive PC components, monitors, and keyboards that allow you to be one of the top players out there, it has come the time to make sure your sound is as best as it can be. That is why we have designed a new and improved gaming soundbar that allows you to enjoy crystal-clear sound during your gaming sessions.
Our amazing RGB light speaker features an innovative design that combines HiFi sound with the impressive effect produced by the built-in RGB lighting. The sound bar for TV and PC is very easy to set up and can be used with virtually any device compatible with Bluetooth V5.0.
What makes our product special?
The premium gaming bluetooth soundbar uses double 52mm speakers to ensure a powerful bass and crystal-clear sound. The 2 speakers ensure 360-degree surround sound with full range for an outstanding experience. The scroll wheel allows you to turn on/off and adjust the volume with a simple motion. The speaker is compact and USB-powered for more practicality.
Some technical features to keep in mind:
Size: 48 × 10 × 14cm;
Bluetooth V5.0 connection;
3.5mm Jack in AUX mode;
Soft touch button for RGB light control;
USB powered design;
True wireless speaker;
Speaker Power: 3W x 2;
Frequency Response: 150Hz – 20KHz;
SNR: ±80db;
Transmission distance: 8-10 meters;
Power Source: USB-A  5V/1.5A (1.2m).
Upgrade your gaming experience with the amazing Maro soundbar!
inc. GST
Buy Now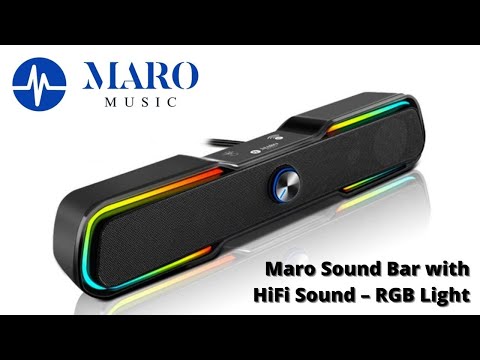 For Real Gamers: Upgrade your gaming experience with the Maro computer speakers for desktop! With very strong bass and sci-fi design, this computer speaker bar offers a new and improved way of enjoying your favourite game, playlist, or movie.
360-degree Surround Sound: Our computer speaker USB uses a double horn and strong bass to make the best out of every beat. The 2 speakers provide a HiFi sound quality, featuring a flatter resonance frequency that ensure an immersive feeling with less frequency alteration for a very accurate sound of nature.
Impressive Design: The computer speakers feature a futuristic design with rainbow RGB decorative lights that you can control through the special soft-touch sensor. The monitor speakers allow you to get lost in a new and exciting world of colour that will excite your senses.
Wide Compatibility: Connect our sound bar to your smartphone, tablet, or computer via Bluetooth V5.0. This means no additional cables or cords, so you get to enjoy a true wireless experience. The pc gaming speakers are USB powered for more practicality and security. Additionally, the RGB speakers have a built-in 3.5mm headphone jack.
Compact and Lightweight: These Bluetooth speakers measure 48 × 10 × 14cm, so they will easily fit on your desk or gaming board. The minimalist and modern design with RGB lighting ensures a unique design that looks like it's out of this world.