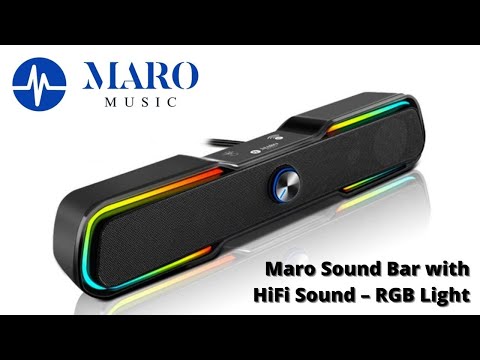 For Real Gamers: Upgrade your gaming experience with the Maro computer speakers for desktop! With very strong bass and sci-fi design, this computer speaker bar offers a new and improved way of enjoying your favourite game, playlist, or movie.
360-degree Surround Sound: Our computer speaker USB uses a double horn and strong bass to make the best out of every beat. The 2 speakers provide a HiFi sound quality, featuring a flatter resonance frequency that ensure an immersive feeling with less frequency alteration for a very accurate sound of nature.
Impressive Design: The computer speakers feature a futuristic design with rainbow RGB decorative lights that you can control through the special soft-touch sensor. The monitor speakers allow you to get lost in a new and exciting world of colour that will excite your senses.
Wide Compatibility: Connect our sound bar to your smartphone, tablet, or computer via Bluetooth V5.0. This means no additional cables or cords, so you get to enjoy a true wireless experience. The pc gaming speakers are USB powered for more practicality and security. Additionally, the RGB speakers have a built-in 3.5mm headphone jack.
Compact and Lightweight: These Bluetooth speakers measure 48 × 10 × 14cm, so they will easily fit on your desk or gaming board. The minimalist and modern design with RGB lighting ensures a unique design that looks like it's out of this world.